Welcome to our Dr Johanna Budwig Page. After long and detailed research into functions of cells and what is needed to grow and support them, Johanna developed the Budwig Protocol to help support people. A prominent part of the diet is cold-pressed linseed (flax seed) oil, blended with fat-free cottage cheese to make it more soluble. This gets the oxygen-carrying omega-3 into the cells where it is needed.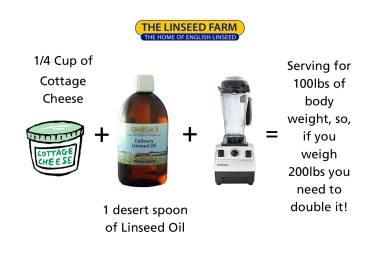 Budwig Protocol
You can buy fresh linseed (flax seed) oil and freshly milled linseed (flax seed) meal used for her famous Original Muesli recipe also known as the Budwig Diet.
Linseed (flax seed or flax) oil is a key ingredient for the Budwig Protocol/Diet!
The Linseed Farm have a special package for users of the Budwig Protocol, please call us on 01403-730326 for our special prices. It is a package of meal and linseed oil.
Budwig Diet Recipe
Generally, each dessert spoon of Linseed/Flaxseed Oil (FO) is blended with 2 or more dessert spoons of low-fat organic Cottage Cheese (CC) or quark. 4 dessert spoons = 1/4 cup.
INGREDIENTS
3 dessert spoons of linseed oil
6 dessert spoons of low-fat (less than 2%) quark or cottage cheese
2 dessert spoons milled linseed
Remember you must mix ONLY the linseed oil & cottage cheese and nothing else at first! The mixture should be like rich whipped cream with no separated oil. You could use a blender for ease.
Now once the FO & CC are well mixed add the 2 dessert spoons of milled linseed and mix. Next mix in by hand or with the blender 1 teaspoon of honey (raw non-pasteurised is recommended). For variety you may add other ingredients such as sugar free apple sauce, cinnamon, vanilla,lemon juice, chopped almonds, hazelnuts, walnuts, cashews (no peanuts), pine kernels or rosehip-marrow.
Tip: If the mixture is too thick and/or the oil does not disappear you may need to add 2 or 3 Tablespoons of milk (goat milk would be the best option). Do not add water or juices when blending Linseed Oil with Cottage Cheese or quark.
Here's Durwins take on the Budwig Protocol: