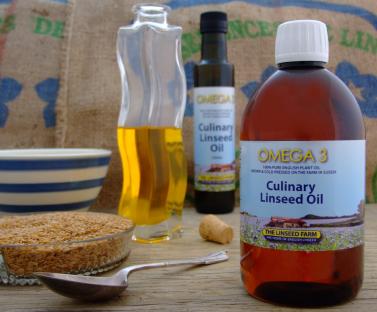 Pic: Omega-3 from our Fresh Linseed (Flaxseed) Oil
Why do we need omega 3?
Omega 3 (the omega 3 from linseed not fish) is essential to the body because we can't make it ourselves, therefore it must come from food. Linseed is one of the richest sources of omega 3 poly-unsaturated acids, alpha-linolenic acid (ALA). Our pure unrefined linseed oil has been slow cold-pressed without heat or light to allow us to maintain this amazingly delicate oil. We also ensure it's at optimum freshness for our customers.
Omega 3 has many different functions in the body. It helps to normalise blood cholesterol levels, supports the nervous and cardiovascular systems and can promote healthy hair, nails and skin. Omega 3 also helps to keep joints healthy.
It can help our metabolism - you need fat to lose fat! So when combined with a good diet and regular exercise, it can help weight loss, build lean muscle and burn fat.
Our cold-pressed linseed oil can be mixed into food such as yogurts, soups, smoothies or used as salad dressing.
View our recipe section for more inspiration. Our milled linseed also rich in Omega 3 can be mixed into porridge or sprinkled over muesli and our seeds can be used in cooking.
Visit our farm shop to take a look at our range of linseed products.