Linseed Oil (4 x 5 Litres)
Buy Linseed Oil (4 x 5 Litres)
About Linseed Oil (4 x 5 Litres)
Slow Cold-Pressed Linseed (Flaxseed) Oil for adding to animal feed for shiny coats and healthy hooves!
Mix 2 to 3 tablespoons into daily feed ration. Linseed (flax) oil is a superior oil to other readily available vegetable oils as it contains the highest levels of Omega 3.
Linseed (Flax) oil has many renowned qualities. It is an excellent energy source and according to some research better than feeding extra sugars and cereals. Linseed oil has also been shown to provide a suitable source of energy for horses and ponies prone to laminitis. It is a safe way of fattening up old thin ponies and will certainly make the coat shine.
This product is inclusive of Postage & Packing.
Linseed Oil (4 x 5 Litres)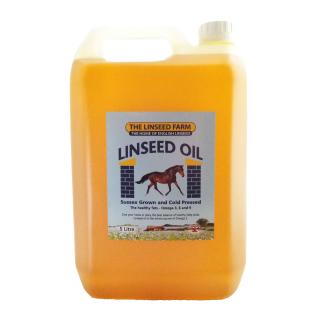 Buy high quality cold-pressed Linseed oil from our farm for your pet. Horses benefit greatly when incorporated in to their diets.
They really do enjoy it! Omega 3 daily in their diet will see shiny coats, strong hooves and a very happy friend! Just add to feed for eg. 1 to 2 tablespoons for a horse. Our Linseed Oil has been slow cold pressed therefore nothing has been added, it is Natural, Gluten Free, non-GMO & packs 50%+ Omega 3
This wonderful Cold-pressed Linseed Oil contains the essential fatty acid ALA, more commonly known as Omega 3.
Like humans, horses do not make Omega 3 in their bodies. Therefore they have to consume it through food. In the wild they would have self-selected from many different sources to get the vitamins and minerals they needed. Domesticated animals are no different and require Omega 3 too, and we can think of no better choice than our Linseed Oil prepared especially for Horses. We send this to you direct from the farm.