The Linseed Farm - Our Story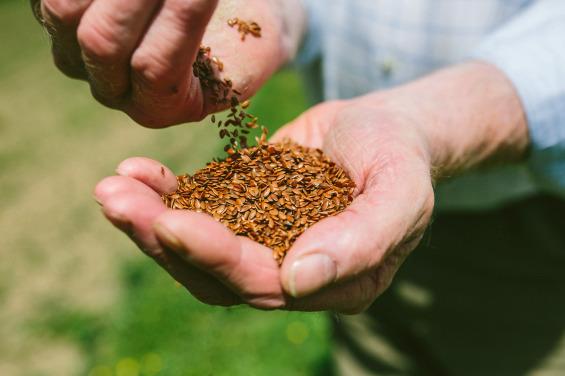 How simple farming folk are taking on the food industry… and are winning
The walls of the farm office are lined with shelves full of relics, pictures of once iconic brands, curiosities and dusty books containing long-forgotten truths.
There are references to rope-making, linoleum and The Linseed Lancers; pamphlets urging US farmers to do their duty and plant more flax for Uncle Sam; an 18th century artefact from the hey-day of British linen-making when Dundee was employing thousands in spinning and weaving linseed cloth; foreign stamps showing little blue flowers; battered tins of linseed throat lozenges.
Farmer Durwin Banks curates this museum of oddities with a mixture of schoolboy zeal and reverence for a tiny seed, which sowed an idea that has turned his family's life around – and the lives of many of their customers.
It's to The Linseed Farm at Barns Green near Horsham that foodies, health professionals and the curious now come to learn about the seed's impact on thousands of years of human history and its potential to influence our health, even extend our lives. More often than not they will go home clutching a bottle of Sussex-grown oil or bag of coarse-milled flour produced in the big barn next door, having connected on a deeply personal level with the wider message: that not all fats are bad and that decades of industrially processed food abuse of our primitive digestive systems is responsible for many of our current ills.
"More and more people when I tell them butter's okay and not to eat margarine say they always knew in their heart of hearts that junk oils and abused fats were bad for them," says Durwin. "But, sadly, I think we have to right off a couple of generations. If we altered our diets now it would take at least four generations to improve our DNA. By then, though, you won't have any diabetes and there will be less cancer and the money you spent on drugs could go into good quality food instead."
For the Banks family – Durwin and his sisters Wendy and Gay – linseed, otherwise known as flax, is more than a crop, it's a religion and with the opening of a new bakery at the end of last year it's propelling their 100-year-old farming business into the new. But for years, they were blissfully unaware of its potential.
"When we were children, our parents had a milking herd of the most beautiful Guernsey cows," recalls Wendy. "At that time, we lived in Slinfold and we had to commute 10 miles to the farm we rented in Faygate. There was no electricity, so we used to milk the cows in stalls with a stationary engine that produced a vacuum. When the pail was full we'd carry it to the dairy where it was cooled and filtered into churns then we used to roll the churns out to the yard to wait for collection.
"We fed the cows a dry ration that BOCM, British Oil and Cake Mills gold label for channel island cattle when you opened the bag I remember the lovely malted smell of locust bean and slabs of linseed. Our cows always had the most lovely, shiny coats because of it.
"Some years later we grew our own of linseed as part of crop rotation but we didn't realise the goodness it held for us."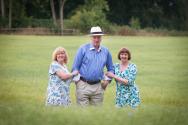 It would be many more years before the penny dropped and when it did, it saved the farm, which they'd come perilously close to losing in the Nineties property crash. But, sadly, it came too late to help their older sister, Lynn who died from breast cancer in 2010, just as Durwin was becoming convinced of the crucial role linseed, with its vast reserves of omega 3, could play in preventative nutrition.
"She became ill in 2007," says Wendy. "She'd gone to the doctor with a list of ailments and at the bottom was a lump in her breast. I suppose with all the other things, he didn't pick up on it. She was about 58 at the time."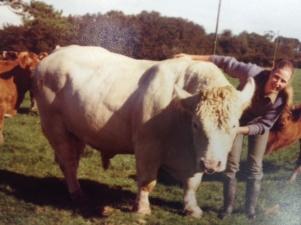 "The cancer was particularly aggressive and didn't respond well to treatment. By that time, Durwin had learned about the benefits of linseed and particularly the Budwig Diet. He spoke to Lynn about it on several occasions, but it's so hard when you are having to go with the advice of doctors and in the grips of a terrible disease. She went down the chemo route. She was 61 when she died."
Her death made Durwin much more determined to get the message out there – to get people, especially those suffering cancer, off processed fats and on to the Budwig Diet."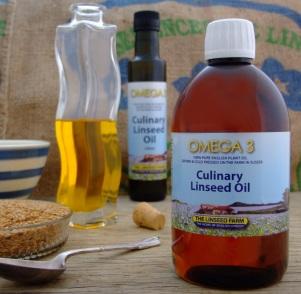 His journey of discovery began in the late Nineties after a successful attempt at distilling oil from chamomile growing on 10 acres of ground they'd recently acquired at Coneyhurst. In selling the still, he came across a hemp oil producer and a visit convinced him he could produce oil from linseed, distant memories of those Guernsey cows with their glowing coats were stirred. He built a press and, now being surrounded by more horses than cows, began selling linseed oil as an equestrian conditioning supplement.
It was then, in the early 2000s, that he became fascinated by the history of the plant – both the longer stemmed linseed known as flax, grown for its fibre, and the shorter linseed grown for its oil – and how centuries of nutritional and medical wisdom had been lost. It led to him producing the first culinary oil, then linseed meal – a rough-ground flour – and finally easy-to-swallow linseed pods, which he began to sell as pure, vegetarian alternatives to fish oils and containing many more dietary benefits.
"In the recent past the emphasis has been on the essential fatty acids EPA and DHA in fish oils to the exclusion of ALA, which is present in plants and which the body is programmed to make the other two from," says Durwin. "And they certainly don't help in balancing cholesterol, which is one claim we can definitely make for linseed.
"The first person's work I came across in this field was Johanna Budwig, a German cancer scientist and leading expert on fats, who developed the Budwig protocol for cancer patients. It cut out sugar and processed fats and included pure linseed oil instead. Budwig is said to have been nominated for a Nobel Prize for her research but people tried to prosecute her for the same work – that, to me, indicates she was right.
"She wasn't the first person to make a connection between linseed and health, though. As I researched further, I found the most powerful emperor in Europe, Charlemagne, had passed a law in the first century to get his people to eat linseed to improve the health of the population. Much later, Ghandi was of the same opinion."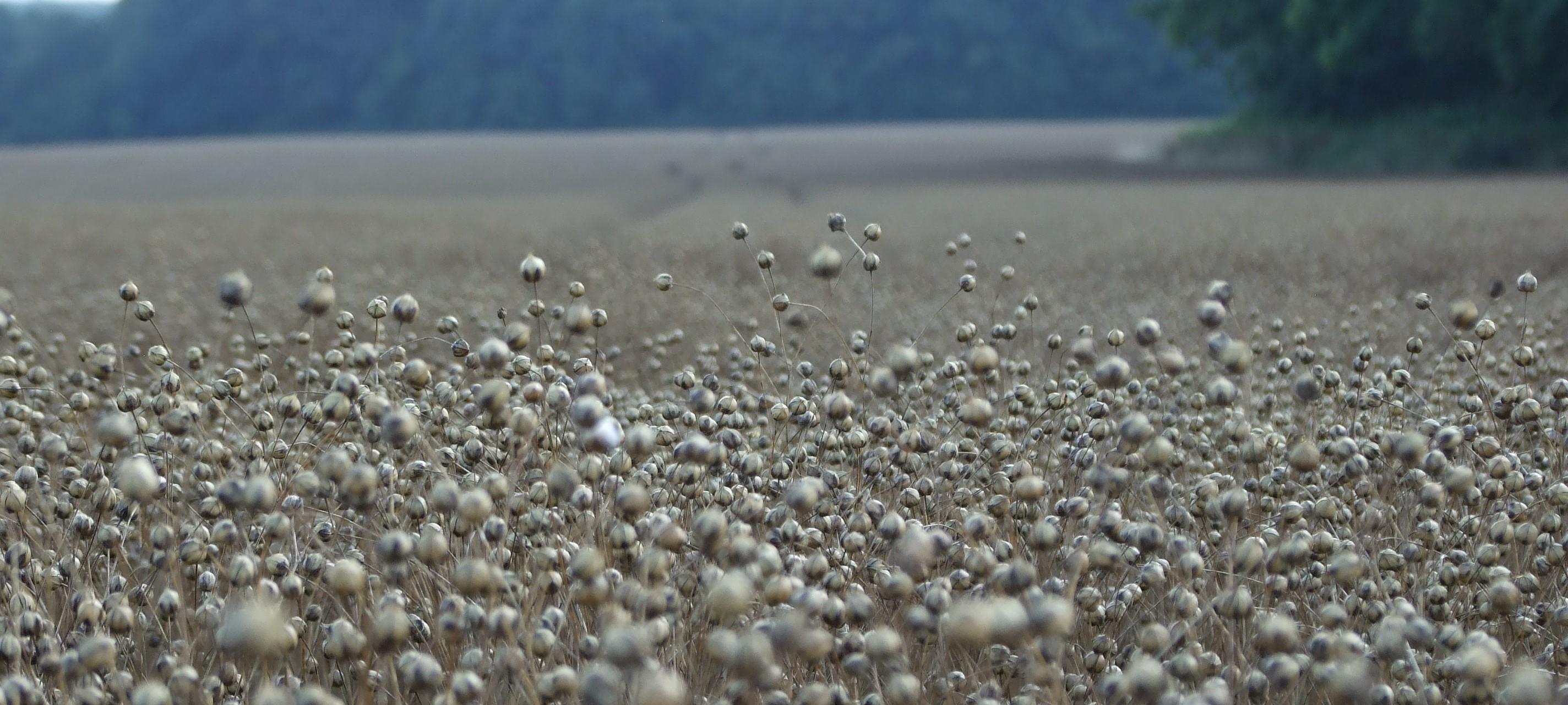 Now, with a sizeable 200 acres in the ground, the Banks are the only producers in the UK to grow, cold-press and sell linseed, fresh from the farm to consumers via their website, at shows and through a limited number of retail outlets. And having chipped away at an edifice of ignorance about diet for so long, they're hoping their newly launched linseed-rich Fruitlin cakes, Flaplin biscuits and Crisplin snacks, will help them reach a wider audience faster.
"Up until the First world War, plenty of people knew linseed was good for them," says Durwin. "I've tracked down tins of Co-op linseed meal being sold before that war and there were no instructions included on how to use it – people just knew. But in 50 years that knowledge was lost. I began to realize what I was engaged in was a re-education programme. People were conned into eating margarine and were left confused by all the healthy eating messages – they still are."
Linseed, once valued for its industrial use, is now a neglected crop and the products to which it lent its name – notably linoleum floor covering and linen fabric – belong to another age. But in the 17th century linen was so important to the economy that James II passed a law making it illegal to bury the dead in anything but Scots linen to prevent cheap imports flooding the country; housewives thanked their lucky stars for easy-clean lino, while farmers benefitted from the by-product created in the manufacturing process and the cattle they fed the linseed cake to gave us omega-3-rich meat and milk in return. And imagine where art history would be now if Picasso and Matisse had not developed lino cuts.
Today, it is the plant's nutritional and biomedical properties that arouse most interest. The Royal Army Medical Corps – still known by their affectionate nickname of the Linseed Lancers – were aware of the power of linseed poultices to heal wounds on the battlefield 100 years ago; researchers are now investigating a new generation of linseed dressings to stem the rising tide of diabetes-related ulcers. But it is the anti-oxidant properties of the seed inside the body where it acts as a natural anti-inflammatory that arguably can do most good. The European Food Safety Authority recently confirmed that linseed Omega 3 helps regulate cholesterol. The Linseed Farm customers would argue it does much else besides.
"Our problem is that under European food laws, we are very limited in the claims we can make for linseed – even though our customers tell us every day the impact it's had on them. If you think about it, our bodies are chemical factories; so if you put the right chemical in and take out the wrong ones, sometimes you can get quite dramatic results. "
After years of struggling to make ends meet by juggling jobs off the farm as well as working on it, all three siblings are now fully employed in the business. And Lyn is there in spirit, too. Her battle with cancer informs Wendy's daily phone chats with customers facing similar worries, and her name, now incorporated into every product on the farm, is always on their lips.
"It's taken a long time to get where we are and it was all a bit of a struggle. But we're fighters, we don't give up easily and it's given us stickability and stubbornness," says Wendy. "Now it's lovely to feel you are helping others. This business really is an education for everyone."
As seen in March 2015 Issue of Sussex Life, written by Sue Scott

Durwin Banks
The Linseed Farm