Farmers supplying a commodity product to a faceless food industry get used to not receiving any of the recognition that big brands have with the public. Food ingredients are all listed on the back of the pack and there might be a stamp telling you where they were grown – in the EU or the UK perhaps – but that's as close as we get to a namecheck.
So, we were bowled over at The Linseed Farm to find not just our ingredient, but our NAME on the FRONT of a packet of gluten-free gingerbread made by Horsham Gingerbread Bakehouse and THIS on three of their biscuits: "In the past, bakers would have sourced many of their ingredients from their local area. We use linseed meal, grown and processed by Durwin Banks & his family at Barns Green in West Sussex. It was this fine product, with its delicious, nutty flavour, that inspired Lesley to create her range of biscuits."
Founder Lesley Ward and her team are all about authenticity, traceability and great taste – as evidenced by their impressive collection of Great Taste Awards for not just their Gingerbread, but also sweet and savoury biscuits. Our linseed goes into her delicious mix for Sussex Ginger Thins, Sussex Lemon Puddle Thins and Sweet Sussex Thins.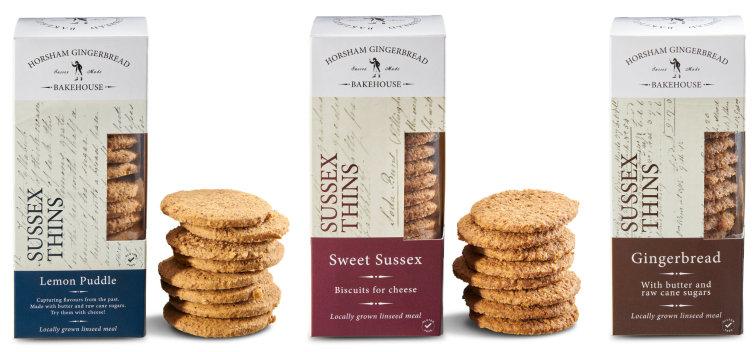 Lesley, who's based not far from Horsham, visited us some years ago when we were looking to develop a range of gluten-free bakes and has been a customer ever since, receiving regular deliveries to her Sussex bakehouse of fresh linseed meal, milled in small batches to guarantee freshness.
We love building close relationships with all our customers – be they members of the public or likeminded producers like Lesley who are looking to be part of a virtuous circle of sustainable businesses focussing all their efforts on creating a fabulous product.
In the case of Horsham Gingerbread Bakehouse, we also shared a common interest in food history.
At The Linseed Farm we have a small museum dedicated to how linseed has been used – as a food, material and a medicine – over thousands of years. The story of Horsham Gingerbread has historic roots, too.
Horsham became well known for its gingerbread, thanks to the popularity of the town's fairs from which were brought back sweet gifts or 'fairings'. But any memory of the recipe died along with the town's last gingerbread maker in 1917.
It wasn't until a local historian discovered a list of ingredients and, importantly, their ratios for a gingerbread made for the Sussex poet Percy Bysshe Shelley by his aunt, that anyone knew how it might have tasted. It's this 'receipt' that inspired Lesley to set up her bakehouse and eventually brought her to our door.
Lesley has expanded the range well beyond her trademark Original Recipe Gingerbread traybake since then and supplies independent shops and venues, including the National Trust, as well as selling popular mix and match selections of bakes online.
All of her bakes are gluten free, save for the very first, the original gingerbread, which is made in a completely separate process to the rest of the range, using local wholemeal flour from the Weald & Downland Living Museum's 19th century water mill at Singleton near Chichester in West Sussex.
So, you see, teatime with Horsham Gingerbread Bakehouse isn't just a treat… it's a slice of history!
You can find out more about Horsham Gingerbread Bakehouse and order your own mix and match selection of delicious bakes online at horshamgingerbread.co.uk.