A letter that would have been received 100 years ago to the day.
Connections to Linseed: The Royal Army Medical Corps and a one hundred year old letter from the Somme.
This is a letter from Francis who was on the Somme, to his sister Ada. It would have been 100 years ago to the day that it would have arrived on Ada's doormat. Sadly, like with so many others Francis was killed in action on the 6th September 1916 during an attack on Delville Wood, France.
Three of our great uncles went to the First World War in France. Henry survived and came back to the farm and would today be classified with Post Traumatic Stress. He suffered for the rest of his life to a greater or lesser degree from the terrible things he had seen.
Percy was attached to the Royal Army Medical Corps who were nick named the Linseed Lancers. This was a lovely link to the past bearing in mind my connection with linseed. There was another great uncle called Alfred and he was in Egypt and the Sudan, he also came back unscathed.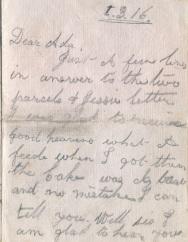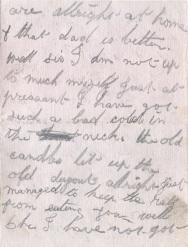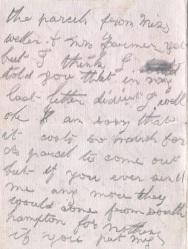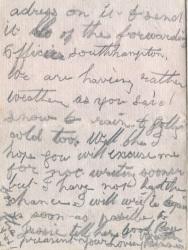 Transcript of letter sent from Francis "Binner" to Ada "Ohie"

1.3.16
Dear Ada
Just a few lines in answer to the two parcels & Jessie's letter I was glad to receive. Good heavens what a feed when I got them. The cake was a treat and no mistake I can tell you. Well sis I am glad to hear you are allright at home and that Dad is better. Well Sis I am not up to much myself just at present I have got such a bad cold in the neck. The old candles lit up the old dugout allright just managed to keep the rats from eating four. Well Ohie I have not got the parcels from Miss Weller & Mrs Farmer yet but I think I told you that in my last letter didn't I. Well Ohie I am sorry that it costs so much for a parcel to come out but if you ever send me any more they would come from Southampton for nothing if you put my address on it and send it to the forwarding Officer Southampton. We are having rather weather as you said snow & rain & jolly cold too. Well Ohie I hope you will excuse me for not writing sooner but I have not had the chance. I will write again as soon as possible to Jessie tell her. Good bye for the present.
Your loving brother Binner.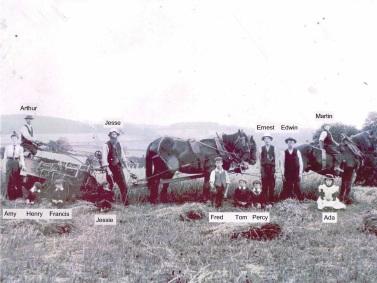 Durwin Banks
The Linseed Farm