The ethical consumer, vegan skin care and the creation of The Linseed Cream
Many people these days are not only choosing food for health, they are increasingly looking to take a more natural, ethical approach to skin care,
Here, at The Linseed Farm, we've been on a similar journey. And as we launch a new 'skin food' range, we thought it was worth looking back to see how we got to this point.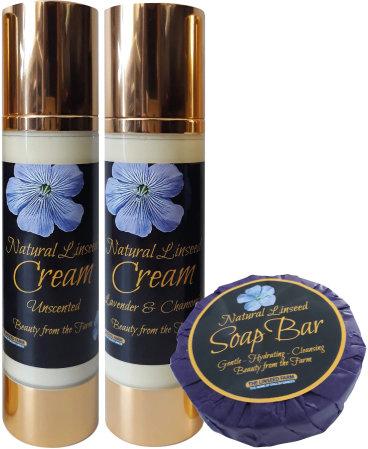 When the first oil emerged from the press 20 years ago, using seed grown on our own farm, it was a kind of miracle. We'd first produced the oil for animal consumption because, as most farmers knew, linseed made their coats shine with health! But lots of reading and research revealed that this ancient plant had many, long-forgotten properties that had been used by our ancestors for our benefit, too. That led us to sell linseed oil to the public for human consumption for the first time. It was a huge challenge for a small, family farm, as we had been, and it proved to be life changing.
Finding bottles and labels and encapsulating the oil into our famous Linseed Pods, wasn't easy but, eventually, the first product was posted out. Farmers markets and London shows at Earls Court and Olympia were attended. And soon we started to receive feedback. People claimed their aches and pains were lessening and even their thinking was clearer! Women in particular were saying they'd noticed how their skin, hair and nails had improved. And, best of all, vegetarian and vegan customers came to us in their droves.
Reaching out to more of the public required lots of initiative, with events being held at the home farm, and talks elsewhere, helping to spread the word. Over the years, various advertisements were also run – including one campaign featuring Egypt's legendary Queen of the Nile. Every school child seemed to know that Cleopatra had bathed regularly in asses' milk. Why? was the question we asked. The answer is that milk from the ass contains 38% Omega 3 – more than any other mammal's milk, including human. We don't know how much, if anything, Cleopatra understood of the science of oils and fats, but what those clever ancient Egyptians had observed was that asses' milk worked in an anti-aging regime to keep wrinkles at bay.
While asses' milk is an animal by-product rich in Omega 3, Linseed contains more Omega 3 than any other plant-based source – 60%, in fact. And, so, the queen famed for her natural beauty wisdom became part of our campaign to sell linseed oil. Posters and postcards featuring Cleopatra were produced and another marketing idea was added to the repertoire.
Some years later, a chance discussion with a fellow stallholder at a farmers' market resulted in the first linseed skin cream being jointly produced. The lavender-scented cream joined the other products in our online shop and at shows and markets. Over the next two or three years, without much advertising, many pots were sold with plenty of repeat orders. But as the cream contained Vaseline and lanoline, which some people were allergic to, we decided a much more natural product was needed. After a two-year break, we brought a new, vegan Linseed Cream to the market in September 2019 and Cleopatra was once again chosen as the ambassador. It seemed the perfect match. The ancient Egyptians were great growers and users of linseed. As well as asses' milk, Cleopatra might well have had a similar cream to ours, made by macerating beeswax, lanolin and other essential oils, to use as part of her radiant beauty routine. This is the ancient and modern link. As we age, our skin changes, losing some of the beauty and elasticity of youth. It shrinks, fine lines appear and it is less supple. Linseed rehydrates the skin, smoothing out those wrinkles and restoring its natural glow.
Why is linseed so good at this? Because the essential fatty acids – mostly Omega 3 – in linseed rehydrate stressed skin, sealing in moisture and making it more resilient against the drying effects of modern environments – such as air-conditioned offices, centrally heated homes and stuffy airline cabins. Recent research has also confirmed what many of our clients had told us: that Linseed can help calm irritated skin.
Not only does linseed produce a luxury face and body cream but, combined with daily linseed in the diet, it will keep your skin looking young and healthy all through life.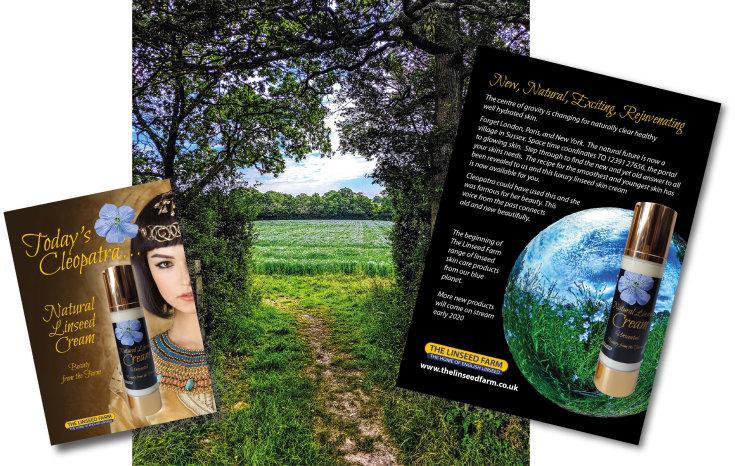 The pictures that we've used to promote our new vegan Linseed Creams were taken in our linseed fields in 2019 by drone and with some extra magic produced our wonderful blue planet. The portal looks through into a field of flowering linseed that is the raw ingredient for all our skin food. You could also see it as being a portal to the past – to when Cleopatra was wisely reaching for a natural way to keep her famously good looks. All these strands came together just as people are contemplating a more natural approach to their skin care.
This is serendipity for us and a super luxury skin food for you.

Durwin Banks
The Linseed Farm