About Linseed/Flaxseed Oil
Linseed oil (flaxseed oil) cold-pressed weekly on our farm. Which is why our unique selling point is fresh linseed oil, which our customers prefer and benefit from greatly.

Enjoy the light flavour and the benefits of Omega 3 in your daily diet. Great as a vinaigrette on salads and everyday food our Linseed Oil has been slow cold pressed straight from the Farm direct to you.

This wonderful Cold-pressed Linseed Oil contains the essential fatty acid ALA, more commonly known as Omega 3. Grown from a seed chosen by us, planted by us, nurtured by us and harvested by us. We then Cold Press it in small batches to ensure you get a wonderful freshness that is simply one of nature's richest sources of Omega 3.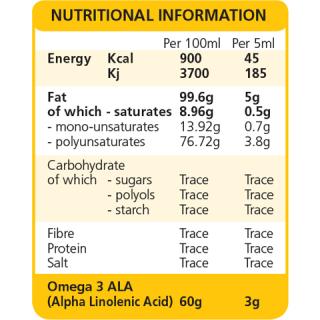 Alpha-linolenic acid (ALA) contributes to the maintenance of normal blood cholesterol levels and the beneficial effect is obtained with a daily intake of 2 g of ALA which equates to a teaspoon of our fresh oil or 4 pods (capsules).

Use up to a desert spoonful per person in recipes, or mix with yoghurt or fruit to make smoothies. Also ideal for salad dressings. No roasting or frying though!!

Suitable for vegans, vegetarians, men, women, children and the elderly.

Available in 250ml & 500ml (glass) or 500ml (plastic BPA Free) bottles that are post friendly.