Vege Life Pods (120 x 1000mg Capsules) - Two Monthly ARO
Buy Vege Life Pods (120 x 1000mg Capsules) - Two Monthly ARO
About Vege Life Pods (120 x 1000mg Capsules) - Two Monthly ARO
Buy Linseed Oil also known as Flaxseed Oil or Flax Oil in easy to swallow capsules 1000mg. Our linseed oil Contains 60% Omega 3. The omega 3 in linseed/flaxseed is Alpha Linolenic Acid (ALA or LNA) which is an essential fatty acid which contributes to the maintenance of normal blood cholesterol levels, the beneficial effect is obtained with a daily intake of 2g of ALA.
Linseed oil (flaxseed oil) 1000mg capsules, we call them pods. One of natures richest sources of omega-3. Easy to swallow and containing fresh from the farm linseed/flaxseed oil.
Nutrition information for 1 Pod: Omega 3, 600mg/1000mg Omega 6, 160/1000mg Omega 9, 130/1000mg
Our linseed oil (flaxseed oil) is high in ALA (alpha linolenic acid), Omega 3. We can say that under EU regulation that taking 2gms (4 Linseed Pods) contributes to the maintenance of normal blood cholesterol.
Ingredients: Linseed Oil (Flaxseed Oil), Modified Corn Starch, Glycerol BP and Carrageenan
Vege Life Pods (120 x 1000mg Capsules) - Two Monthly ARO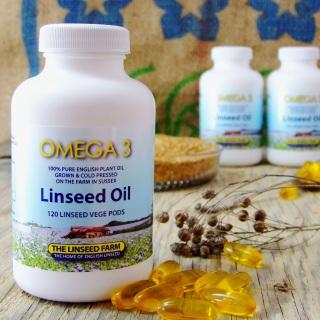 Linseed oil (flaxseed oil) for vegetarians or vegans which contains the essential fatty acid ALA, more commonly known as Omega 3. Whether you are watching your blood pressure or cholesterol, want clearer skin, shining hair and stronger nails, or are embarking upon a fitness regime to lose weight, build lean muscle or burn fat, Omega 3 from linseed could really benefit you.
The shells of our Vege Linseed Pods (capsules) are made of Carrageenan, Corn Starch, Glycerol, and Sodium Carbonate Anhydrous.
They comply with the highest standards required by Vegans and Vegetarians. The oil is of course from a plant so it is animal and fish-free. Our Vegan and Vegetarian customers tell us Omega 3 is extremely important to them and the opportunity to assimilate this fatty oil in other forms is so very limited.
We therefore fill our pods with our highest-quality cold-pressed linseed oil. So now everyone can get the health benefits of taking omega-3 in convenient little pods.
Available in 2 packing formats:
120 Capsule pot of vegetarian Linseed Vege Pods. Sufficient for one person for one month at 4 per day.
120 Linseed Vege Pods in a Enviro Pack - goes through letter boxes more easily and uses less packaging.